Delighted to Partner to Preserve History at TripAdvisor® #1 Museum & Thing to Do in Reno
(Taking License with a Pun-ny Report)
You know full wheel that Reno, NV is best in gas for vintage vehicles, antique autos, and classic cars. Technophilic motorheads cruise in from gear and far for the experience, style, and craftsmanship of these timeless treasures at the Hot August Nights® show, and the Nevada Day Parade.
Many patients and families have reported losing their bearings after seeing the "Ghostbuster-Like Ambulance" at Renown's Regional Medical Center. This week, Renown Health employees were auto-ly delighted to donate a historic heirloom, a rare 1949 Superior Cadillac Ambulance to the National Automobile Museum in Reno. Yes, a car is reborn! In ignition, the vintage auto will be added to the museum's collection, keeping the ambulance which had last been in service in Clark County, fuel circle and back to its gas roots.
Despite the health system being known for intensive car and stroke, it set tongues wagon for a hospital to own such a radical roadster. Renown was aheadlight of their time, thanks to a tank of Renown employees, who on a rim in 1987, suggested that they would door to be different with this differential of the medical center's long-standing commitment to health and wheelness. A six-month search ended in January 1988 when this curious clunker was found in Tecopa, CA, near Death Valley.
It was love at first light from the northern Nevada community, and through their tireless efforts, a team transformed the wrecker into a classic showpiece for what was then called Washoe Medical Center. The classic car was named the White Knight and showcased each year at employee appreciation events and driven in Hot August Nights and the Nevada Day Parade.
In 2011, employees turned up the seat by adding purple cushions and door decals for Renown's 150 birthday celebration. However, driving the 1949 love buggy without power steering, brakes or seat belts became a motor of life and death and increasingly unsafe. To stay on the safe ride, the ambulance received an honorable suspension and sat in tire straits for the last six years in the Regional Medical Center garage.
On a recent road trip to the hospital, Phil MacDougall, National Automobile Museum president and executive director, beamed when he saw the nostalgic rescue wagon. On a rim, he rolled over to the Renown team and recalled, "there's always vroom for one more classic coupe in the National Automobile Museum!"
Dr. Brian Erling, the president and CEO of Renown thought it was a wheely good idea and gave the o-key. But it wasn't a slam trunk. It was a spoiler. Why? I hate to brake it to you but the rarified rambler wouldn't start! Everything grinded to asphalt. Were the connection cables corroded? Was it an arrested alternator? A faulty fuse? Finite fossil fuel? A highly polished team of Renown mechanics and engineers shifted into gear to repair the roadster.
Lighting quick, Michelle propelled the pit crew into action. With not a minute to spare, Kevin and Alex (seen in this photo), diagnosed the dinosaur. Ably assisted by director of facilities, Chris, and via phone by retired auto aficionado Larry T, the technical team got fired up when they found the amps had stopped cranking in the bygone battery. The auto alliance throttled up the moving machine and the team showed and shined! The victorious champions drove the dusty vintage vehicle out of the Renown Regional garage, into a flashy flatbed and all the highway to the National Automobile Museum at the corner of Lake and Mill Streets in downtown Reno.
The finishing clutch was that the winsome wagon will now join the museum's collection of more than 200 classics. What's the road ahead? It may be converted to the Ghostbuster ambulance, and join the many eye-popping cars housed at the National Automobile Museum which have been seen in movies and TV shows such as; Titanic, Rebel without a Cause, Batman & Robin, Back to the Future, Herbie and more! Proving it is never to light to start up a new partnership!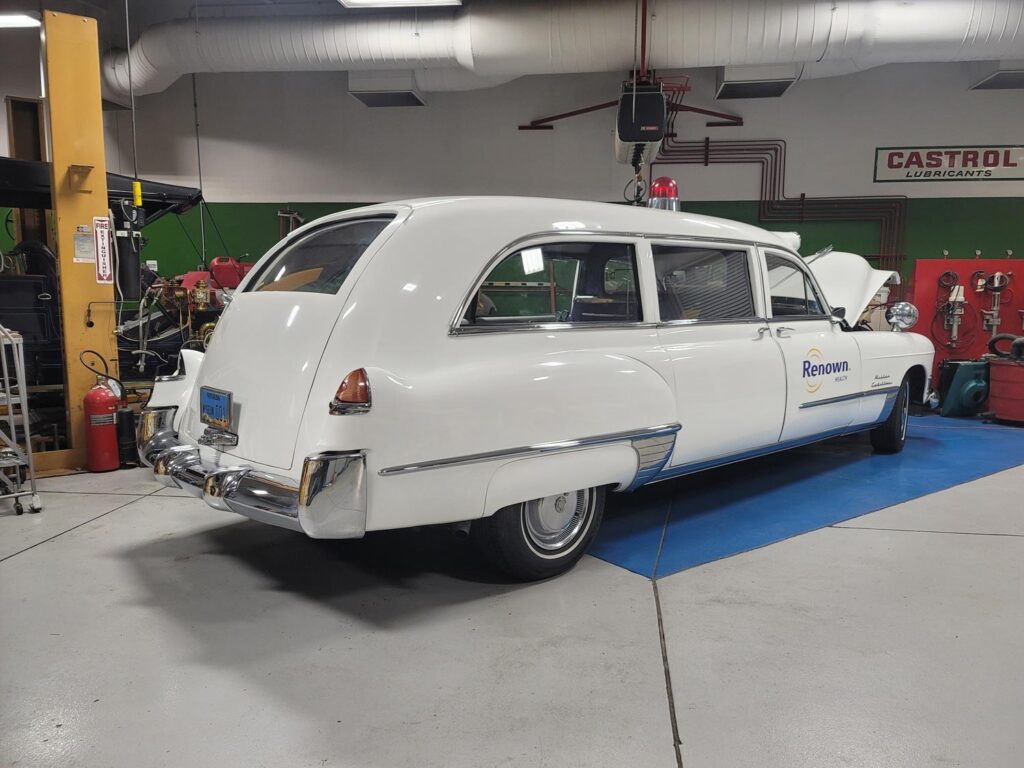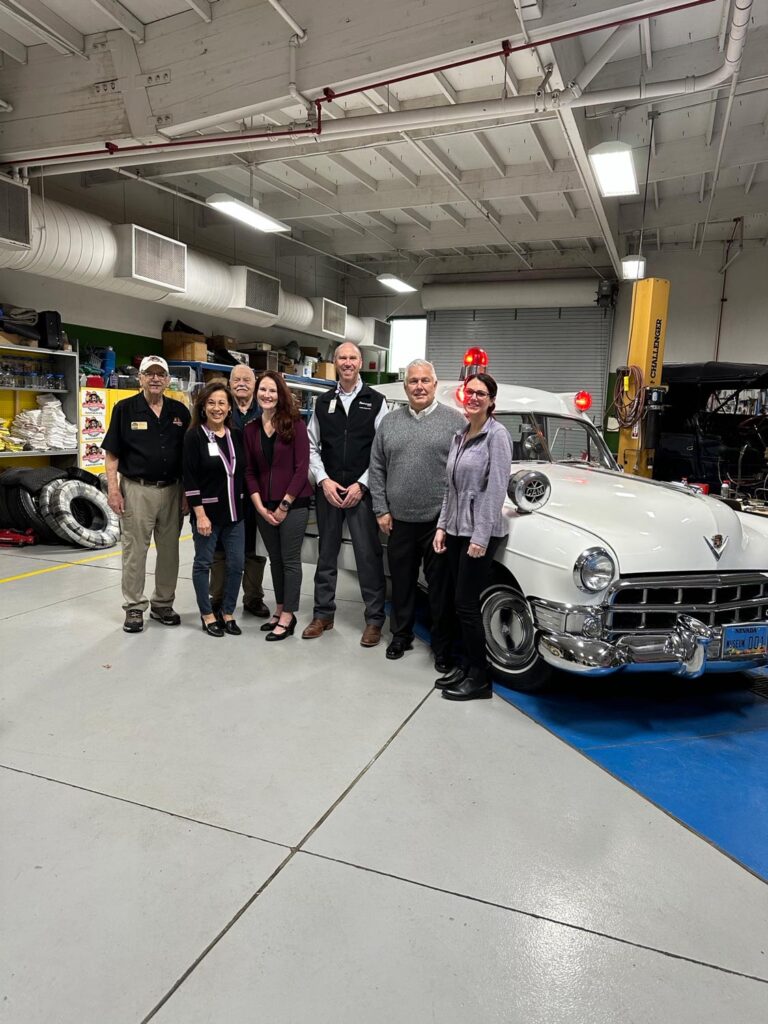 History of Washoe County Hospital (now Renown) and the 1949 Superior Cadillac Ambulance
Washoe County Hospital, the model #1 hospital for Nevada, opened in 1864, the same year Nevada became a state. The community established the Washoe clinic in 1862 during a smallpox outbreak to treat the sick during the Civil War and Comstock Lode silver boom.
Almost a century later, in 1949, the newly minted Superior Cadillac Ambulance rolled off an assembly line in Detroit. Harry S. Truman geared up for his term as the 33rd President of the United States. Penicillin and other antibiotics saved millions from smallpox, tuberculosis, polio, whooping cough, tetanus, and malaria; and in 1949, Washoe County Hospital opened its first pediatrics unit.
During World War II, a crew of GM designers fused airplane design elements into the 1949 post-war styling of the Superior Cadillac, igniting the Greatest Era of Cars and propelling post-war American automotive exuberance and luxury. The car's curved windshield is nostalgic of an airplane cockpit, it's roof and pontoon fender lines curvaceously beautiful from every angle. The ambulance was built on a 1948 chassis, features a fully shiftless Hydra-Matric Drive automatic transmission, and a high compression V-8, 150 horsepower engine that, combined with revised axle ratios push this '49 Caddy to reach 100 mph and scale 0-60 mph in 14 seconds, impressive for the day. This marvelous machine could be purchased for $5,450. Cadillac later used fender loving care and the 1948 chassis to develop horse-powered hearses and languid limousines.
Nope, it's not exactly that Glorious Ghostbuster mobile!
Many mistake Renown's 1949 Superior Cadillac ambulance for the Cadillac Miller-Meteor, which was called the Ectomobile in the Ghostbusters movie. That famous fueler and specter fightin' wagon was produced ten years later- in 1959 in the Miller-Meteor plant in Pigua, OH. The production run was very limited with only 400 vehicles produced. At nearly 20 feet in length and weighing 3 tons, the Cadillac Miller-Meteor was an unwieldy car to handle, though it was a smooth ride thanks to an air suspension system and a 6.3 liter V8 engine. It was reported that this 1959 model was purchased for the film for $4,800. The vehicle designer, Stephen Dane, who was tapped by director Ivan Reitman to oversee Ekto-1 also designed the Proton Pack, Particle Thrower, Trap, Giga meter, Slime Scooper and Slime Blower—all within two weeks of the start of shooting of the original Ghostbusters movie. Now that's a KeyMaster!