The MotoMeter

One of the fun ways to enjoy the National Automobile Museum is to examine the various styles of radiator caps. They range from metal sculptures of classic nudes and racing greyhounds to flying birds and Indian chiefs. But one of the simplest, and most appropriately named, is the Boyce MotoMeter like this one on our 1931 Ford Model A Deluxe Sedan.
The Boyce MotoMeter was patented in 1912, and was used to monitor the temperature of the cooling system and thus the engine itself. These caps were popular from 1912 until the 1930s. They were designed by German immigrant Hermann Schlaich and manufactured in a variety of different sizes and designs, but they all were pretty similar. Originally sold as an aftermarket accessory owners could buy, the manufacturers soon private-labeled them and made them standard equipment, like on our Ford.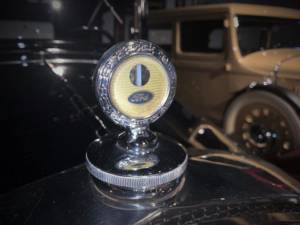 The cooling system on early cars was not pressurized and therefore had a relatively low boiling point and the coolant would expanded and "boil over." Overheating was a common cause of breakdowns in the era. For the first time, the Boyce MotoMeter gave drivers the information they needed to monitor engine temperature before it caused serious damage.
Looking through the windshield at the radiator cap, you could see a simple thermometer embedded in the cap and know if your car was within proper temperature ranges. The MotoMeter disappeared by the mid-30s when in-dash temperature gauges became popular. In addition to Fords, you could find these caps on Pierce Arrows, Packards, Mercers, Stutzs, and dozens of other automobiles.
Today, with better designs, overheating is nearly a thing of the past. By 1941, most systems were pressurized and that reduced coolant loss. Car owners today seldom see their own radiator cap and warning lights have even replaced many temperature gauges. But once upon a time, the MotoMeter was the must have accessory for every driver.