The Man Behind Lana Turner's Chrysler Hubcaps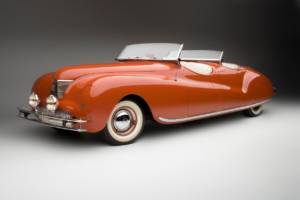 One of our most beautiful cars at the National Automobile Museum is the 1941 Chrysler Newport Dual Cowl Phaeton/LeBaron. Not only is it gorgeous, it is known as the "Lana Turner" Chrysler. It features what must have been one of the most elegant automotive "rumble seats" ever created. The formal name is 'dual cowl" and Ms. Turner must have looked striking riding in the back of this beautiful car.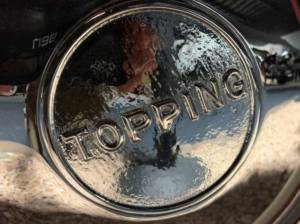 If you look very closely, on the hubcaps you'll see the name "Topping" stamped on each one. His initial is on the front grille and the name is also on the horn ring of the steering wheel. While you can't peek under the hood, the "Topping" name is also on the cylinder heads.  Henry J. "Bob" Topping Jr. was not an auto manufacturer, but rather had this car customized (substituting a Cadillac engine and transmission in this Chrysler). He was a rich "socialite," but more importantly in this context, he married Turner in April of 1948. The actress who starred in over 50 movies, was married eight times to seven different husbands (she married Stephen Crane twice). Topping was husband number three, but set the longevity record by making it for four years, seven months and 14 days. Band leader Arte Shaw was husband No. 1 but only lasted seven months.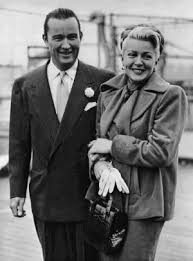 All the marriages were often featured on the gossip pages. Topping proposed to Turner at the 21 Club in Los Angeles by dropping a diamond ring into her martini. Although worth millions when they married, Topping suffered heavy financial losses due to poor investments and excessive gambling. According to the tabloids, Turner finally divorced Topping when "she realized she could no longer afford to keep them in the lavish lifestyle to which they had grown accustomed."
Topping's grandfather was tin-plate magnate Daniel G. Reid and a good portion of that fortune was left to Henry and his brothers Daniel and John. Daniel "Dan" Topping later became the owner of the New York Yankees from 1945 to 1964. Interestingly, Dan's second wife, Arline Judge, later became the second wife of Henry Jr. once he was divorced from Lana Turner. And Turner's husband No. 1, Artie Shaw, was also married eight times. Bill Harrah, who purchased this car for his collection only had six wives and seven marriages.  The lives of the rich and famous are anything but dull.